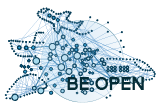 The BE OPEN project (https://beopen-project.eu) will hold its second event on the 21st of January 2021, in the frame of the 100th Transportation Research Board Annual Meeting (TRB AM 2021).
The workshop on "Open Science in Transport: Challenges and Opportunities in a COVID-19 Era" will be held on Thursday, January 21, 2021 from 2:00 PM to 5:00 PM (EST) / 20:00 to 23:00 (CET) under the sponsoring of TRB International Coordinating Council.
Further information on the event, including the programme as well as instructions on how to register, can be found here.