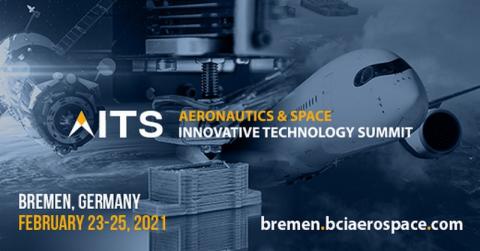 The Aeronautics & Space Innovative Technology Summit will take place digitally on February 23-25, 2021.
AITS Bremen is a premier German business convention focused on the application of innovative technologies in the aeronautics, space and defense industries. AITS Bremen brings together senior level executives from leading companies with a regional and global outreach, showcasing unique capabilities and know-how, and engaging participants in meaningful and effective business meetings and conferences.

OSCAR will participate in this online event and its main up to date achievements and results will be communicated through a dedicated presentation on "Open Science and Aeronautics Research" and a subsequent panel discussion. The later will focus on "Building the Research and Innovation Network of the Future". Interesting issues will be discussed and experts' views will be shared on:
How are international programmes addressing global challenges and European industrial competitiveness?
Cutting-edge R&D on the frontier of new concepts and solutions
Talent development as a strategic growth factor for industry
The project will be represented by Dr. Gerhard Pauly (Fraunhofer IFAM).
Useful information about AITS 2021, including the agenda can be found here.